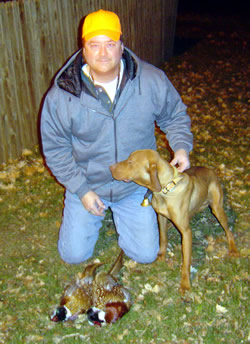 Lone Oak Vizslas
My name is Marc Williams.
I have raised, trained, and hunted with dogs for 30 years. I started out with Labrador Retrievers, which I really enjoyed, but I was always impressed with Vizslas.
I liked their

- size
- short coats
- easy maintenance
- eager to please personalities
- and happy dispositions
So 14 years ago, we moved to the country and added Vizslas to our family. They are my loyal companions. Hunting with them is a joy. The Vizsla is truly the walking man's versatile bird dog.
Testimonials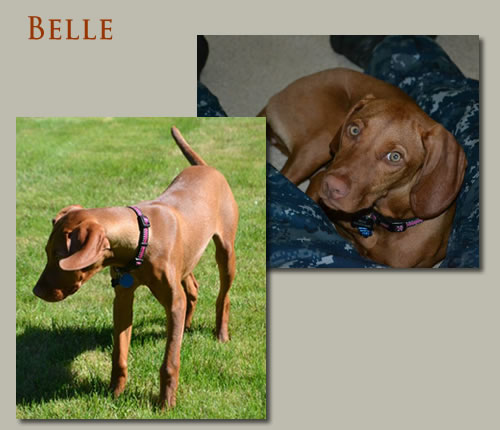 Marc and Keri,
I just wanted to drop in and say hello and update you on the puppy my wife and I purchased in February. We got the pink collar female, and named her Belle. She has been absolutely beyond wonderful. She's very sharp, but she doesn't let her intelligence get in the way of my wife and I having to deal with the puppy stages haha. I find myself often wondering aloud how we possibly got so lucky when we stumbled not only upon this breed, but you as well. We couldn't have asked for a better experience with a breeder.
Well, by now, Belle is nearly 5 months old, and she's wonderful as I said before. She's growing into her namesake as well, as "Belle" means "beautiful." She seems to be growing fast at times, and slowly at others, but regardless, its amazing to watch her grow up and develop a personality right before our very eyes. It truly is a pleasure. She loves everyone, and the feeling is mutual 100% of the time. There isn't a person she's met who doesn't miss her when they leave. We get compliments everywhere we go regarding her beauty, and the longer people get to know her, the more awed they are by her unique blend of hyper puppy and calm cuddle buddy. We couldn't have asked for a better addition to the family.
Above all, we want to thank you both from the bottom of our hearts for providing us with so much joy. Even when the puppy stage gets frustrating, it is difficult to stay upset with her when she brings so much bliss to our lives. We've gone from not even knowing what a vizsla was, to finding ourselves telling each other that we may never get another breed of dog. We are absolutely in love.
Thank you so much,
~Geoff and Emily
This is Rick's wife Anne and I wanted to let you know the puppy we got from you is just a wonderful boy! He sits, is working on heeling, and stay. He loves just to sit and watch our goats and chickens in their pens. He's just so fun and very good. Thank you for selling him to us and not making us wait. I can tell by the comments on your web page that you have great dogs. If anyone asks where we got him we will sure send them to you. He is perfect and a joy!
~Anne Wing
Click Here for more testimonials
Call: (320) 587-7577