Vizslas Hunting Dog Information
Vizslas make great hunting dogs. The Vizsla is the first and so far only breed to produce a quintuple champion — in conformation, field, obedience and agility. His superb scenting skills make him a natural hunter. Vizslas have also been guide dogs, drug-detection dogs, therapy dogs, and search-and-rescue dogs, and have competed in falconry, flyball, tracking, and hunt tests.
Read hunting testimonials below from some of our happy Vizslas customers at Lone Oak Vizslas.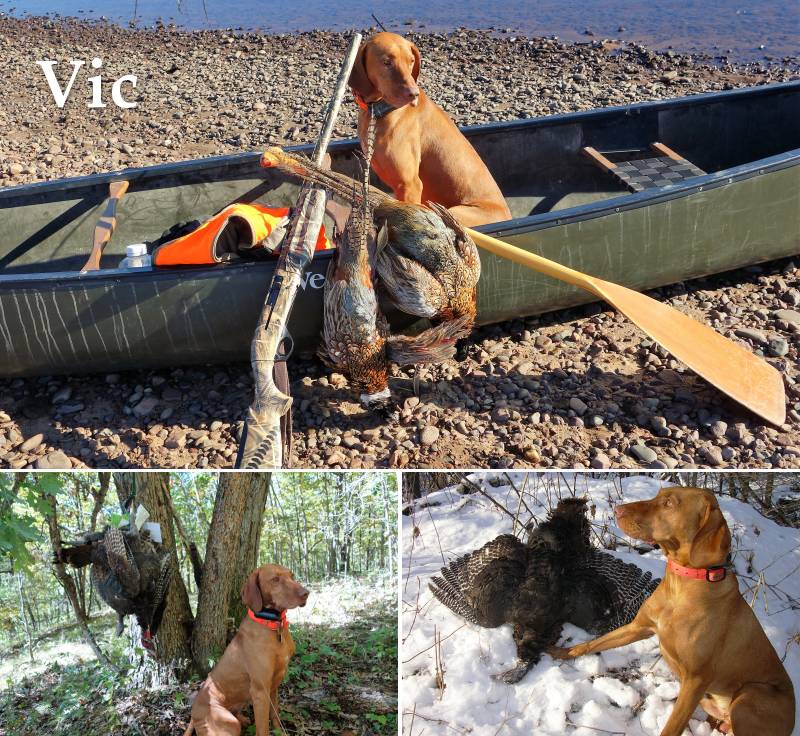 Dear Marc & Kerri,
In the first year of a dog's life, you likely receive many compliments and pictures regarding your Vizslas. All deserved, my Vizsla, Vic is going to turn 7 in December of 2017. Wow, these years certainly have gone by fast.
During my 54 years of hunting, I have had several hunting dogs of a variety of breeds that exceeded expectations. Vic has not only surpassed the previous dogs in skill; he has developed a skill set all his own. Perhaps this is common in your line of Vizslas.
In 2010 Wisconsin legalized the use of dogs for turkey hunting during the fall season. In my area, turkeys are the most common game bird so acquiring and training a turkey dog was a priority. After analyzing the pros and cons of a wide variety of bird dogs; the Vizsla rose to the top of my turkey dog list. On my first visit with your dogs and puppies, I was struck by the love, care and respect you had for all of them.
As the birds became active during Vic's first spring, I made a point to tell him the name of each one he flushed. Turkey! Grouse! Woodcock! Pheasant! Quail! Always followed with a good boy! All this effort has paid dividends over the years. Vic knows the difference and has learned to hunt accordingly.
In the fall, turkey flocks are located by a dog and rushed to scatter them in different directions. Many times the flock is 200-400 yards from the hunter. After completing his task, Vic will find me and lead me to the point of the flock's break up. He lays next to me as I call the turkeys back, Vic usually hears them coming before I do, he points in the direction while lying still along my left side. Turkey dogging requires a complex set of skills which learned quickly. He was only 9 months old when we bagged his first gobbler on opening day of the turkey season.
To be truthful, I thought Vic would only be an accomplished turkey dog and, perhaps marginal at hunting other upland birds. How wrong I was! Vic works close while finding and pointing quail, woodcock, and grouse. My hunting buddies are amazed at his steadiness to the gun. In the pheasant field, he points the birds, some hold tight others, as pheasants are prone to do, try to run away. If I'm close Vic will charge the escaping rooster to flush it in gun range, or he attempts to circle the escaping bird to point again or flush it back towards me. Clearly, Vic has learned that we are a team. He does not hunt for himself, he hunts for me.
Thank you. You have a fabulous line of Vizslas bred to hunt.
Warm regards,
Tim Barton
---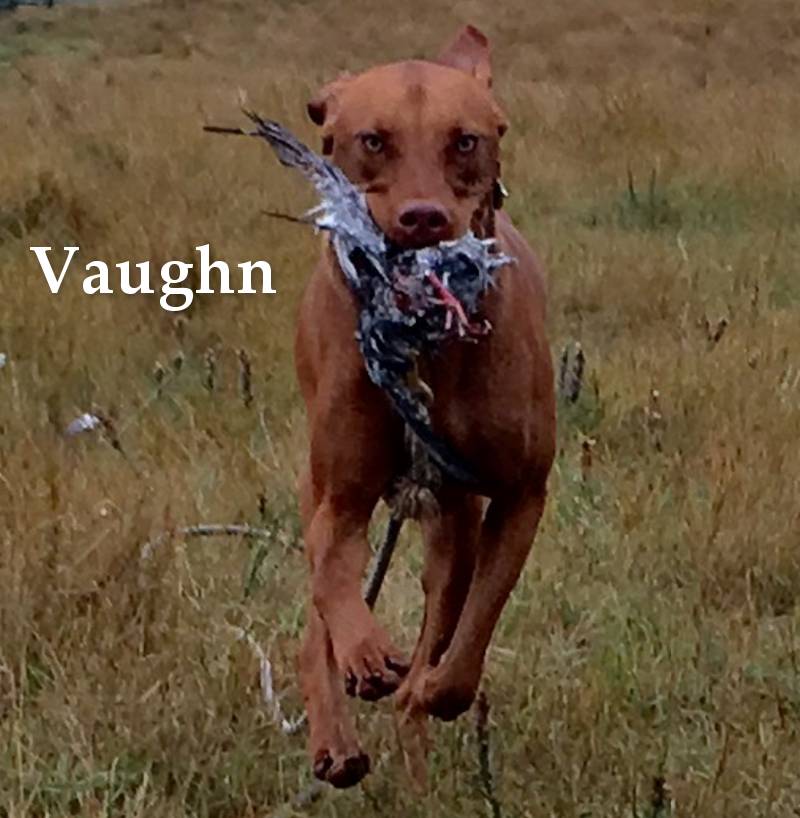 Mark and Keri,
I wanted to give you and update on the pup I bought from you a year ago.
He was the single pup from Gracie and his dad was Cody. We named him Vaughn and he's turning into an amazing hunter. He points beautifully and has a lot of natural skill. His temperament is an absolute pleasure to have around and if we could get more dogs like him we would in an instant.
We had him at a Rick Smith seminar in June and professionally trained for two weeks in ND and the trainers really liked him and wanted to make sure I told you how impressed they were.
Greg
---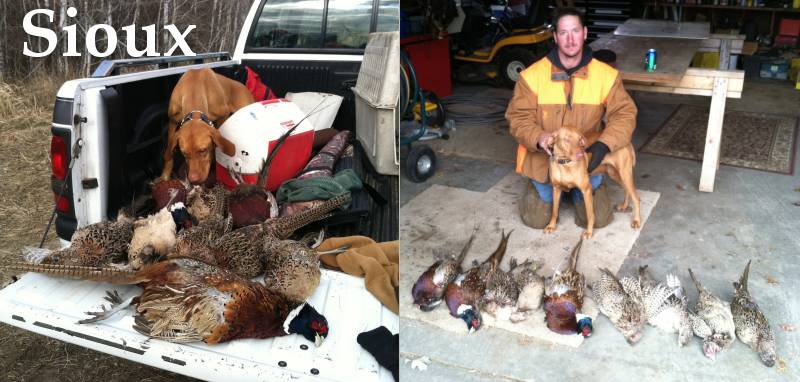 ---
If you are looking for a great hunting dog and loyal family companion, the Vizslas breed may be just for you. Contact us at Lone Oak Vizslas in Hutchinson, MN for more information about our available Vizslas pups. We would love to hear from you!
Call: (320) 587-7577